RAYEL's new video for"Unconditional" is like a little love letter back to the bean from the Land of Enchantment.
At times we go beyond the normal measure to extend our love for another; Surpassing even our own logic. Love at its core lacks logic, being that it is so much more spiritual than it is physical. We do things and fail to understand why, in hindsight even claiming to be fools! Our Physical Brain and our Spiritual Heart at odds once again. But how else do we arrive at the understanding of Unconditional Love? How else do we learn that our greatest strength remains in our capacity for Love? We have certainly endured and overcame much in the name of it.
And just last week she dropped a fresh heater "Inside Self" produced by D'artizt.
Estee Nack and Illah Dutch dropped a smooth joint "REGAL ATTIRE" (produced by Illa Dutch).
Haze and Vinyl Villain cultivate a cool/spacey/grimey feel with in "3 Planes":
Chronic Tone and Paranom's contribution to DJ Chong Wizard's 'The Last Mixtape', "Sith Lord Steps" is now up as a single on soundcloud:
And even if you missed the limited run of EvillDewer's 'Apocrypha' via Loretta Records, you can still download and stream the digital project for free THIS WEEK ONLY:
Be sure to come thru next month to the Good Life for a dope release party featuring a stacked lineup:
Dewer also produced the first single from $auce Heist's upcoming EP "NU CRACK BABIES" 90s Edition "Plus Degrees" featuring Estee Nack.
Al.Divino let a lil quickie fly with "HOUSE SHOES FLIP SESSIONS IV [qwikwunyadameen]"
And on the Events Calendar:
Primo Profit will be at the Middle East Upstairs Thursday April 19 celebrating his 'Locksmith' debut with some dope special guests. $10 / 18+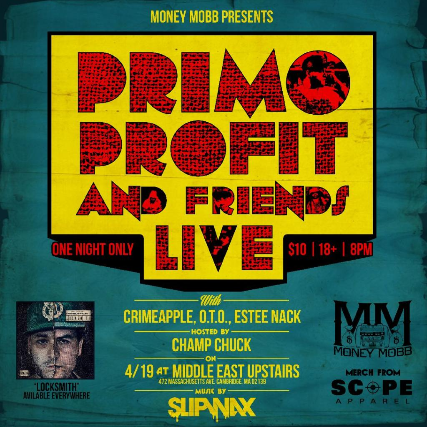 Plus be sure to come thru to the Bridging the Gap Bazaar every 2nd and 4th Friday at Spontaneous Celebrations for vendors, workshops, art, music, conversation, community and more! If you are interested in getting involved sign up here.